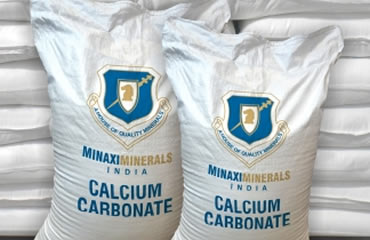 UNCOATED CALCIUM CARBONATE
OUR PRODUCTS PLAY CRUCIAL ROLE IN FOLLOWING INDUSTRIES
Earth's Crust Comprises of more than 4% Calcium Carbonate (CaCO ). It is 3 found in forms of chalk, limestone and marble, produced by over million years of sedimentation of shells of small fossilized snails, shellfish and coral. Although all three forms are identical in chemical terms, they differ in many other respects like purity, whiteness, thickness and homogeneity. Pure Calcium Carbonate can be produced from marble, or it can be prepared by passing carbon dioxide into a solution of calcium hydroxide.
Minaxi Minerals pioneered the manufacturing of quality Calcium Carbonate. We offer natural Calcium Carbonate, which is extracted by mining or quarrying and the same is used for industrial purposes.
Calcium Carbonate is one of the most useful and versatile materials known to man and can be used in diverse industries.
Grades:
MINAXI CARB M 310

MINAXI CARB M 415

MINAXI CARB M 520
Grade
CARB 310
CARB 415
CARB 520
Physical Properties
Whiteness
98
97
97
Brightness
98
98
98
Loose B.D gm/ml
0.58
0.60
0.80
Oil Absorption
20
18
16
Colour Tone
Cream White
White
White
Partical Size
D 97
11 Microns
15
19
D 50
2.5
3.5
5
Residue on 500 #
Nil
Nil
Nil
Coated / Uncoated
Coated
Coated
Coated
Chemical Properties
CaCO3
96.00%
96.00%
95.00%
SiO
2.00%
2.00%
3.00%
MgCO
0.5%
0.5%
0.5%
Specific Gravity
2.7
2.7
2.7
Advantages
Higher Mechanical Properties in Thermoplastic Applications
Higher Flow Properties
Prevents Chalking
Better Gloss & Whiteness in Paints and Powder Coating Applications
Excellent Dispersion Properties
Recommended Application
Color and Antifab. Master Batches
PVC Flooring & Leather Cloth Industry
Rigid and Conduit PVC Pipes
LDPE , PP Compounding
Liquid & Powder Paints Industries
Epoxy, SMC & DMC Compounds